How to Open a VR Theme Park or Virtual Reality Arcade

8 Steps to Opening Your Own VR Room
The future of VR theme parks
Virtual reality was once viewed as an expensive and risky investment, but in recent years, the technology and its applications have become increasingly viable. As a result, the world is beginning to recognize the potential of virtual reality, and companies are exploring new ways to utilize this innovative technology. Virtual Play brand di Virtual Play Zone Srl con sede nella zona industriali di Spigno Saturnia (LT) ha previsto il futuro entrando nel mercato dell'intrattenimento oltre 22 anni fa e come produttore di macchine da gioco VR, simulatori di guida auto e aerei, di prodotti interattivi, di software di gioco e come distributore esclusivo per l'Italia di produttori leader del mercato mondiale come Kat Vr già nel 2018. With our turnkey products and solutions, we can help you create a fully functional VR theme park from start to finish.
Before we get into the details of how to build a VR virtual reality play area or theme park, let's start by answering a few basic questions.
Why design and start a virtual reality theme park?
Why invest in VR gaming machines?
Will virtual reality be a passing fad, or is it here to stay as a game-changing technology? We need to be logical, frank and sincere, removing any doubts.
Virtual Reality is the Future!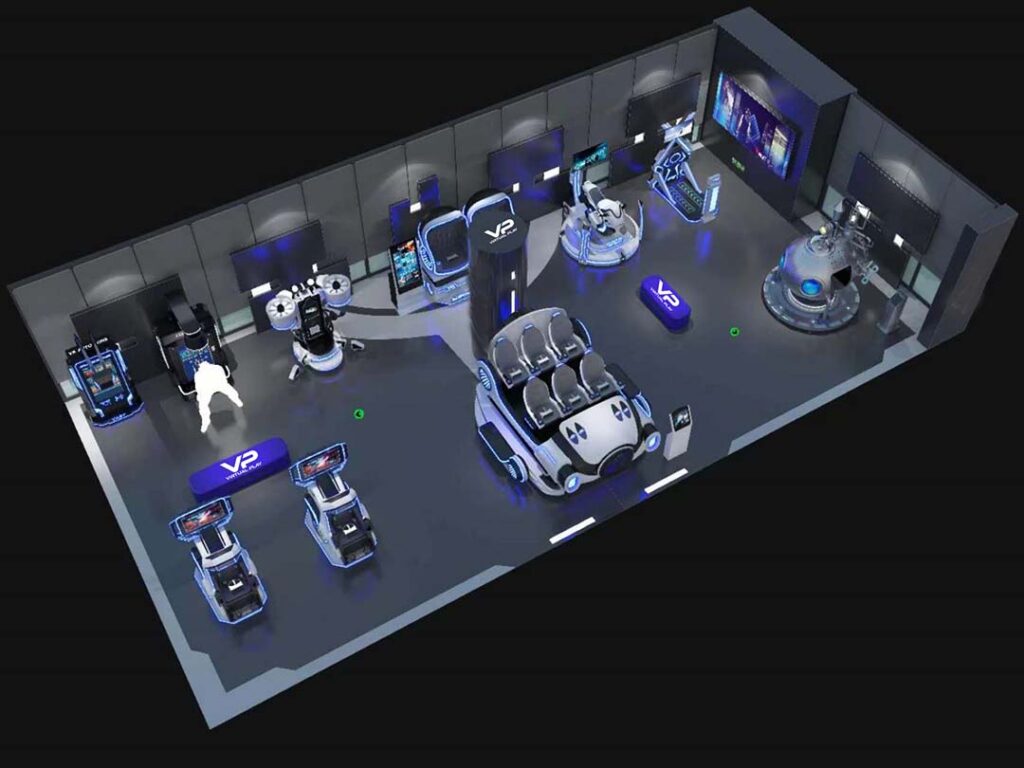 The theme park and amusement park industry is undergoing significant changes in the aftermath of the 2020 pandemic. This global crisis has caused upheaval in every sector and has forced people to reevaluate their ways of thinking and being, resulting in a transformation of the industry. Business models have changed and touchless technologies are taking over. Surely, VR arcades will replace traditional amusement parks!
Why are we so sure about this? That's easy: the biggest players in the tech industry – including Meta (formerly known as Facebook), Sony, Apple, and Windows, among others – are investing billions in this technology. Inoltre forse non lo sai ma, Disney ha già programmato di aggiornare tutti i sui parchi alla tecnologia VR e nel 2023 ha già inaugurato un'area.
But you know what the great news is? It's just that the huge capital available to these big names is not needed to enter this business. With this guide, everything will be within your reach, and you'll gain an even better understanding by following its steps.
The customer experience must be the focus of the VR theme park
Virtual reality offers a highly immersive experience that can stimulate a person's senses and evoke real emotions, all within a surreal and futuristic world. To create a truly immersive experience, a VR play area should be designed in a way that makes the user feel as though they have been transported to an alternate reality, almost like a dream. As technology continues to evolve, human experiences and interactions are bound to change, opening up a wide range of possibilities for engagement and development. We are currently in the midst of a revolution, and as always, it is happening first within the world of gaming and entertainment. For outings with family and friends, a VR theme park is sure to be a top choice, making it an unstoppable success.
When designing a VR play area, there are several factors that need to be taken into consideration. At VIRTUAL PLAY, we have been in the VR industry for several years and have started our own franchise with multiple arcades, as well as offering VR gaming machines for sale. With our experience, we are pleased to provide you with an eight-step guide on how to open a VR theme park or Virtual Reality arcade. We understand that finding relevant experience in Italy at the moment can be challenging, so we hope to offer you some interesting ideas and valuable advice to help you start off on the right foot.
Park space and size or VR arcade game room
and required size. Unlike traditional amusement parks, you don't need a vast area, which is a significant advantage. Depending on your Business Plan, which Virtual Play provides as a free service to all affiliates, the space can be located inside a shopping center or even a multi-story building in a central or peripheral area. The spaciousness and welcoming environment you create will directly impact your revenue generation potential. VR game machines and simulators require limited areas with designated perimeters often marked on the ground, and each workstation needs an average of 9-10 square meters. The key is to ensure freedom of movement to prevent players from colliding during an immersive experience. At Virtual Play, we understand the importance of a well-planned location for your VR park or arcade, and we're here to help you succeed every step of the way.
Interior design and aesthetic appeal
A good atmosphere is central to a good customer experience. For a VR arcade room, where the simulators and machines will be filled with futuristic content, it is important that the interior design gives the impression of an energetic and futuristic environment. Make your place cool Here's a revised version of your text with improved clarity and flow: For an original and eye-catching design, consider using neon mounted in a creative way, gaming-themed graphics, and vinyl materials. If you need support, the designers at Virtual Play have the creativity and experience to help you achieve your vision. To further enhance your design, consider incorporating dynamic ambient lighting solutions from our partner, www.starlights.it. Their team always provides us with great solutions that can elevate your VR park or arcade to the next level.
Remember that for some VR experiences it may be necessary to create separate cabins even with soundproofing. Finally, remember that VR game simulation stations generally have different carpets than the transit areas.
Installation services and operational guidelines
As manufacturers and sellers of virtual reality machines, we know that the installation and operation of arcade VR machines and simulators are crucial aspects of success in this industry. Our experts are available to provide you with information and complete installation support, from designing the electrical system to the operational configuration of the machines. We are committed to ensuring that your VR park or arcade is set up for success, and we're here to help you every step of the way. In addition, on-site and online tutoring, including after-sales. Maintenance and qualified technical assistance are critical aspects of any successful VR park or arcade, and few companies can provide the level of support that we offer as manufacturers. We are committed to ensuring that your machines are always working at peak performance, and our expert team is always available to provide prompt assistance whenever you need it.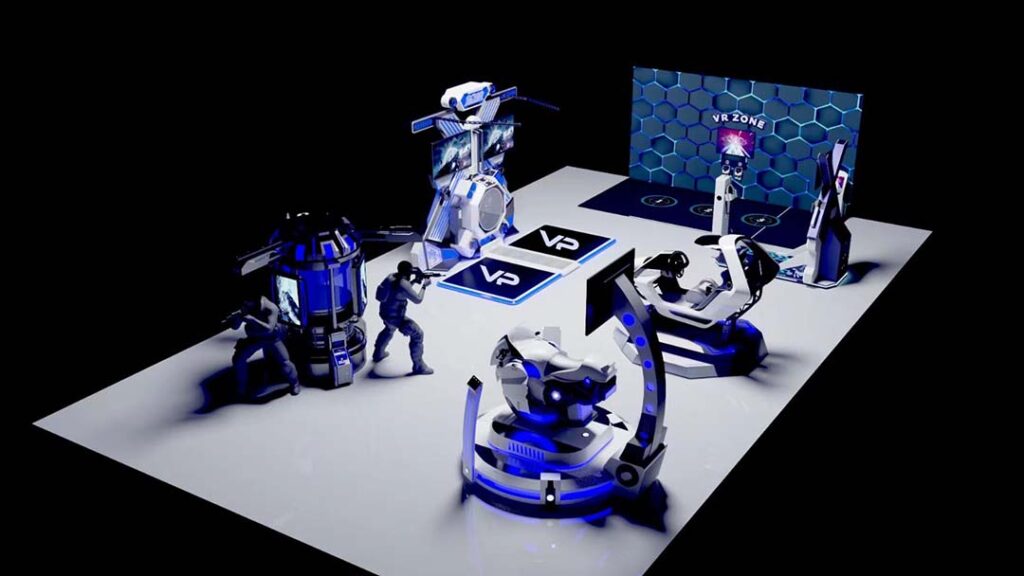 Learn more about hardware
When we talk about hardware, we mean two things: virtual reality headsets and VR arcade machines. Some of the VR headsets with the latest technology are Oculus Quest 2, Sony PlayStation VR, Oculus Rift S, HTC Vive Cosmos, Pico. The sentence is grammatically correct, but it could be improved for clarity. Here's a revised version: When choosing between various VR machine models, the available budget is a crucial factor to consider. However, the models also differ in terms of aesthetics, resolution, battery life, and whether they are wired or wireless, among other features. At Virtual Play, we can help you navigate these differences to find the best machine for your needs and budget. Our advice is to rely on the manufacturer who tends to equip the machines with viewers suitable for the best performance and compatibility.
VR arcade machines, or simulators, can vary in the complexity of their movements, with 3 DoF and 6 DoF options available. The number of motors supplied often correlates with increased reactivity and realism. The machines also differ in terms of the VR games they can offer. At Virtual Play, we can help you select the best machine for your needs, taking into account both the complexity of movements and the available VR games. Our range of VR machines includes a variety of options that are always available for testing at our showroom. Some of the machines we offer include VR 360 flight simulators, VR motorcycles, VR ski simulators, VR arcade rooms, VR driving simulators, Kids VR games, Cinema 9D VR, Kat Walk VR Multiplayer, VR Racing Simulator, VR Motion Simulator, and VR Dancing Machine. We're confident that you'll find the perfect machine for your VR park or arcade among our selection. Plus Free Vr to experience an adventure without space, without time, without wires and with all the freedom of movement you desire.
All VR headsets and gaming simulator seats are adjustable for comfort based on the height of the user.
Contact our team to find out more about our products and the solutions we offer.
Immersive VR games and social experiences
One of the advantages of a VR theme park over a traditional amusement park is that it appeals to audiences of all ages. Regardless of age, everyone can enjoy a truly immersive experience in a virtual world, making it an ideal attraction for families and groups of all ages. Families and friends, children and adults can all enjoy it together. VR theme parks offer a unique opportunity to socialize with friends, engage in team activities with colleagues, and even build stronger bonds between fathers and sons. The immersive experience of virtual reality creates unforgettable memories and fosters meaningful connections between people of all ages. You should have a mix of single player and multiplayer games. Today we have VR games that can be collaborative and allow for interactivity between players within the virtual environment. Games like Beat Saber, which have gained a significant following among VR enthusiasts, are now available for both individual and multiplayer gameplay and have become hugely popular among the general public. These games offer a truly immersive experience that engages players in exciting and challenging gameplay, making them a must-try for anyone visiting a VR park or arcade.
Considering the post-pandemic situation where people try to avoid large outdoor gatherings, a VR area has a small surface area and equipment compared to a large theme park and can be sanitized easily. It generates trust and attracts flows of customers and groups. The safekeeping service with lockers so that they don't leave their belongings lying around or on the floor is very appreciated by customers. Although it may seem like a minor detail, providing a safe environment is crucial when it comes to users who wear a VR headset and move within a space that must be free from physical obstacles. VR users are often completely immersed in the virtual world, making safety an essential consideration for any VR park or arcade. At Virtual Play, we prioritize safety and ensure that our machines and installations meet the highest safety standards to provide a secure and enjoyable experience for all users. In fact, they don't know where they're walking or what they might collide with. Therefore, lockers are also strongly recommended to avoid unwanted theft and panic among the public.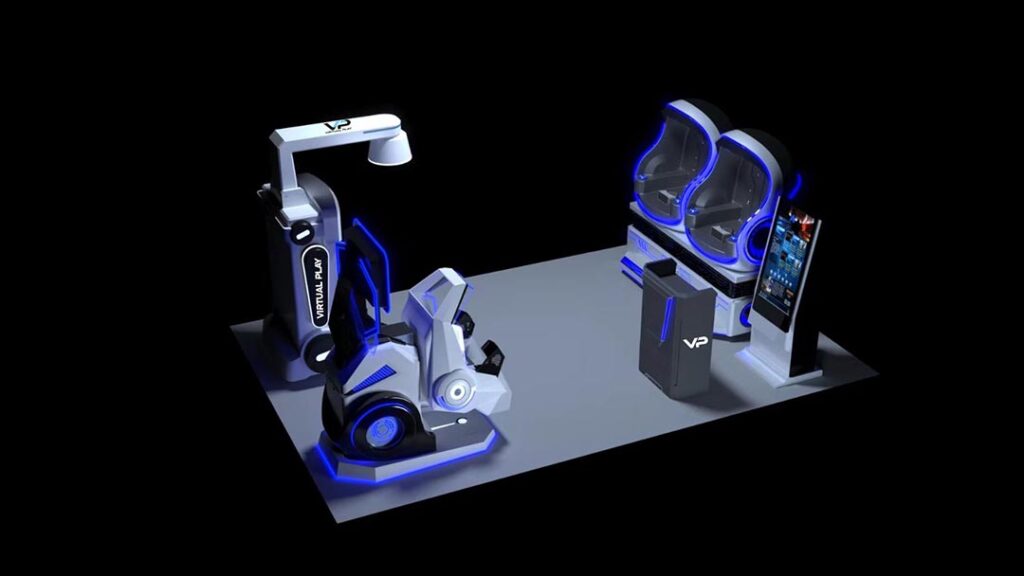 Hire technically sound and experienced personnel
Let's face it, to deal with this technology, you need to understand something about computer science and even better have a passion for gaming. If you are an investor that's fine, even better, as long as you hire someone with the two characteristics listed.
Your staff must be able to manage equipment and troubleshoot when needed. It should also be able to explain to the user how to play the VR game and communicate in virtual reality. Like we said, customer experience is key! For your customers to fully enjoy their time in the VR area, they must therefore understand the logic of the machine, the VR game and its use. Since our job is to manufacture, sell and install virtual reality machines, we have full knowledge of the subject (more than anyone else) and are available to train your staff.
When you are about to design and launch a fantastic hi-tech VR theme park, it is also important to effectively communicate the incredible experience of playing the user will be able to have on a VR machine or a VR gaming simulator. Making videos about the immersive experience offered can be a great idea by communicating it through social media. You can also create selfie spots or inspire users to take pictures of themselves using the machines and then share them, which will help spread the positive experience and build a following of followers and customers. A VR theme park is not only a profitable business option but also the future of amusement parks.
If you are thinking of taking your first steps in the VR world, we hope that these ideas have been useful for you to gain more confidence.
If you're still uncertain, there's a safer and easier path to consider. By taking this route, you can nip any doubts in the bud and avoid the most common mistakes that often lead to wasted time and money – sometimes even thousands of euros. By choosing this option, you'll have access to constant and ongoing guidance throughout your entire venture. You'll receive effective support not only during the pre- and post-launch phases, but also during the critical stages of growth and maturity for your business.
Request information on our Virtual Play franchise project and how to submit your application without obligation.
As an innovative entrepreneur with assets in multiple entertainment companies, Salvatore Papa is the founder of PlayZone Franchising, Virtual Play, Starlights, and SPStudios' Finanza Facilitata Facile. Author of 3 books, tutor of the National Microcredit institution. In recent years, hisfocus has been on creating a network of entertainment venues featuring Virtual Reality technology. Our goal is to transform these spaces into vibrant gathering places for young people and families alike.
You are about to choose a partner who will support you in the launch, growth and development phases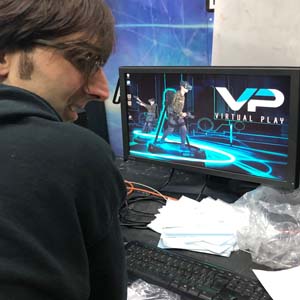 Technical assistance
The specialized service you can't do without to generate continuous profits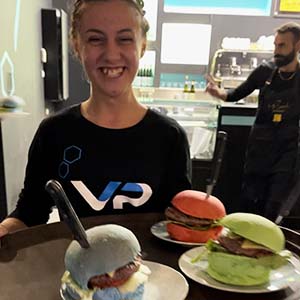 Our format
The project solutions, studied and tested to obtain predictable profits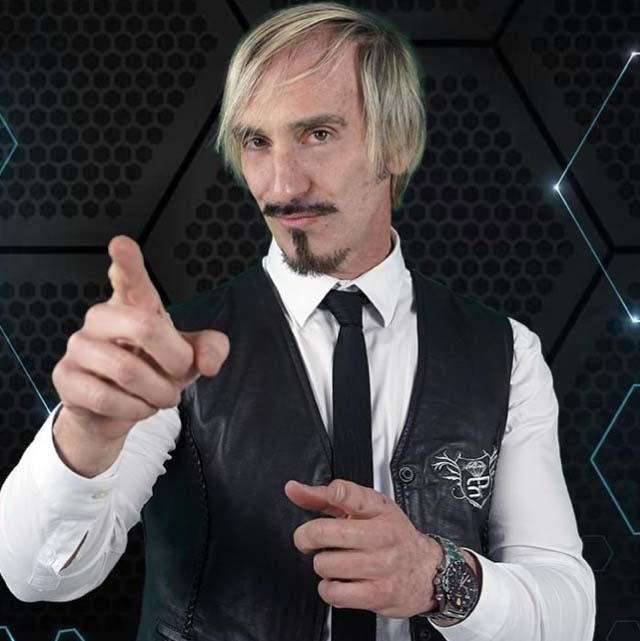 financing
We have partnerships with the best financial consultancy firms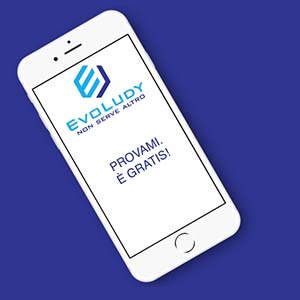 Know how
Training and software to better manage customers, marketing and reservations
How is it going for those who have already invested in VIRTUAL PLAY?
We will be your best allies
At 11.00 pm our hall was full with queues for all the attractions: a real disaster! Arena sold out from 17.00 to 03.00 at night with people who gave up because they had 2 hours to wait. This is allowing us to create customers for every day of the week.
The success of my format can be attributed to my intuition in merging my culinary expertise with my passion for gaming. By bringing these two elements together, I was able to create a unique and innovative concept that resonated with customers. SP Studios allowed me to create something much more impactful.
Start your adventure with Virtual Play now
Whether you're interested in learning more about our simulators, creating your own independent project, or considering affiliating with us, we have options to suit your needs. You can request information on our simulators, pursue your own independent project, or allow us to guide you through the affiliation process by submitting an application.